Bluetooth Trade-up Program!
Change is everywhere, so Modular Robotics is giving away free Bluetooth Hats!!
*Offer valid for US customers while supplies last. Limit one Bluetooth Hat per customer. Offer ends 06.15.2020
What's a Bluetooth Hat?
The Bluetooth Hat replaces your Bluetooth Cubelet. The Hat easily connects your robot constructions to free apps so you can build remote control vehicles, or code any Cubelet to change its behavior.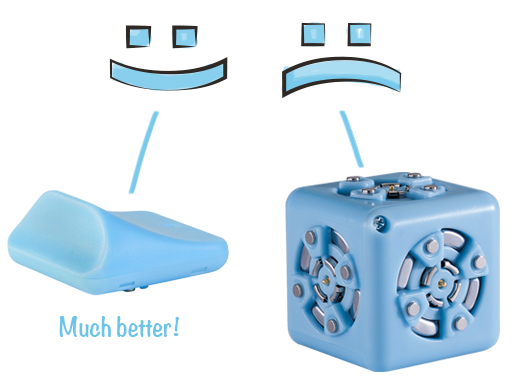 The Bluetooth Hat is a joy to use and if we're honest with ourselves, much better than the Bluetooth Cubelet. It's easy to use, easy to pair with, and the perfect partner for doing more with Cubelets robot blocks.
While supplies last, we're offering a free Trade-up Program to give you the best Cubelets experience available. It's a small way of saying thanks for all your support.
Get your free Bluetooth Hat!
This program has expired.
Claiming your free Bluetooth Hat is easy!
Just follow these steps:
Complete the form linked below.
Check your email for a free, printable return label.
Pack up your Bluetooth Cubelet and reference slip. Then ship them to Modular Robotics for recycling.
Once we receive your Bluetooth Cubelet, we'll ship you a new Bluetooth Hat for free.
Thank you for your interest, this program has expired
A note to long-time supporters: We appreciate your early support! But you should know that Bluetooth Hat is not compatible with some early Cubelets. If you purchased Cubelets prior to 2013 then the Bluetooth Hat will not be compatible with your Cubelets. Please contact support@modrobotics.com and we'll discuss how we can help you out. ALSO, if your Cubelets are still running OS3 (pre-2016) – please update your Cubelets to OS4 before participating in this program. The Bluetooth Hat is NOT compatible with OS3 Cubelets so you will need to upgrade first.
Why is Modular Robotics giving away free stuff?
We know that giving away free stuff isn't normal, but we want to make things better. We want you to have a better play experience with Cubelets. We want to build better learning experiences in classrooms, and better end-results for our world.
Our goal is to help build a generation of better problem-solvers – kids who can solve complex problems. Part of that goal means creating a company that doesn't leave behind a pile of e-waste for our kids to deal with when they're older. So we're working to build a Cubelet recycling program.
The Trade-up Program means change for you and for us. It is a small way to thank our supporters and a step towards lessening the resource impact of building millions of tiny robots. Thanks for helping support us in this journey.
Bluetooth Trade-up FAQs.
Do I need a Bluetooth Cubelet to participate?
Yes. This offer only applies to customers who are exchanging their current Bluetooth Cubelet for a new Bluetooth Hat.
What's the difference between a Bluetooth Cubelet and a Bluetooth Hat?
Simply stated, the Bluetooth Hat is newer, easier to use, and a joy to build with. The Hat utilizes a new version of Bluetooth technology to simplify the pairing process. Simply hold your robot near the device you wish to pair with and you're connected! The Bluetooth Hat is also required to work with the new Cubelets Console, which helps you learn, and do, more with your Cubelets. Sometimes the sequel is better than the original, and that's why we want you to have a Bluetooth Hat!
I have multiple Bluetooth Cubelets I want to replace, can you swap more than one?
We want to help as many people as possible, so we're restricting the number of Bluetooth Hats to one per customer. If you'd like to discuss replacing numerous Bluetooth Cubelets please contact our education accounts team. Use the coupon code 'TRADEUP15' to save 15%. (Limit 12, expires 06.30.2020)
Do I need to pay shipping costs?
No, Modular Robotics is covering shipping on both ends! All you need to do provide is a sturdy box to return your Bluetooth Cubelet in.
I'm outside the United States can I participate?
The high costs of international shipping hinder our ability to run a free exchange for international customers. Please contact our education accounts team if you'd like to discuss replacing your Bluetooth Cubelets from abroad.