Have you introduced your students to Personality Swaps in our Cubelets App? Are you ready to get them started coding their own custom personalities?  Would you like to transition into custom coding by anchoring to the pre-built personalities students already know and understand? Boy, do I have the best news for you!
While we do still offer our Create with Cubelets video series that includes basic how-to tutorials about the Cubelets Blockly interface, our software developers just launched something even more magical!
We've posted the Blockly code for all of our pre-made Personality Swaps. This means students can easily change which message to send in Morse Code or how sensitive the Two-Way Drive is. This is the most ideal progression of skills because it puts students in the driver's seat while working with a Cubelet they're already familiar with. They can investigate any Personality and modify it while they become familiar with Cubelets Blockly.
Don't worry, the Create with Cubelets tutorials are still available as helpful reminders. But with this new functionality in Cubelets Blockly, student-driven inquiry learning is accessible to an even wider variety of learners.
When your students are ready for the transition from Personality Swaps to Cubelets Blockly, show them how to open Cubelets Blockly, then look for this new icon in the task bar:.

Can't find it? Look for these icons grouped together in the top-right corner of your Blockly screen: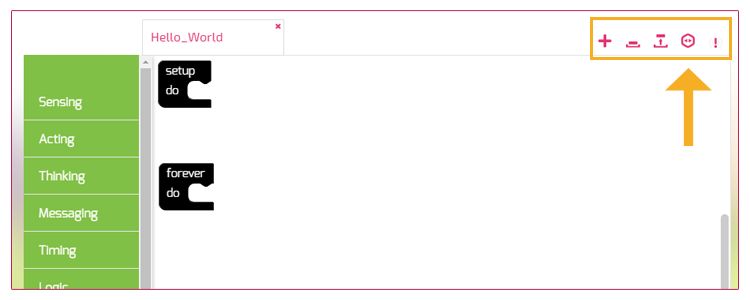 This new icon (my all-time favorite improvement to any of our Cubelets software to date) gives students the ability to see the Cubelets Blockly code behind each and every Personality they explored in the Cubelets app.  Not only that, but students can now modify and customize these Personalities as they get familiar with Cubelets Blockly.
This new functionality completely changes our approach to Blockly tutorials and is a more authentic way for students to dive into the more traditional coding languages. We'll be building out our lesson plan resources to include this new functionality soon, but for now, you and your students can play with it on your own. Modifying Personality Swaps is a great way to practice loops, timing, if/then statements, and creating variables!
This isn't the only improvement we've made to Cubelets Blockly, either. I'll be sharing more new (secret) functionality with you over the next couple weeks, so stay tuned!  In the meantime, share your Cubelets Blockly experiments with us on Twitter @modrobotics with the hashtag #CubeletsChat!
---
Enjoyed this blog post? Sign up for the #CubeletsChat newsletter to receive the next blog post straight to your inbox. Plus join the discussion on twitter using the #CubeletsChat hashtag!